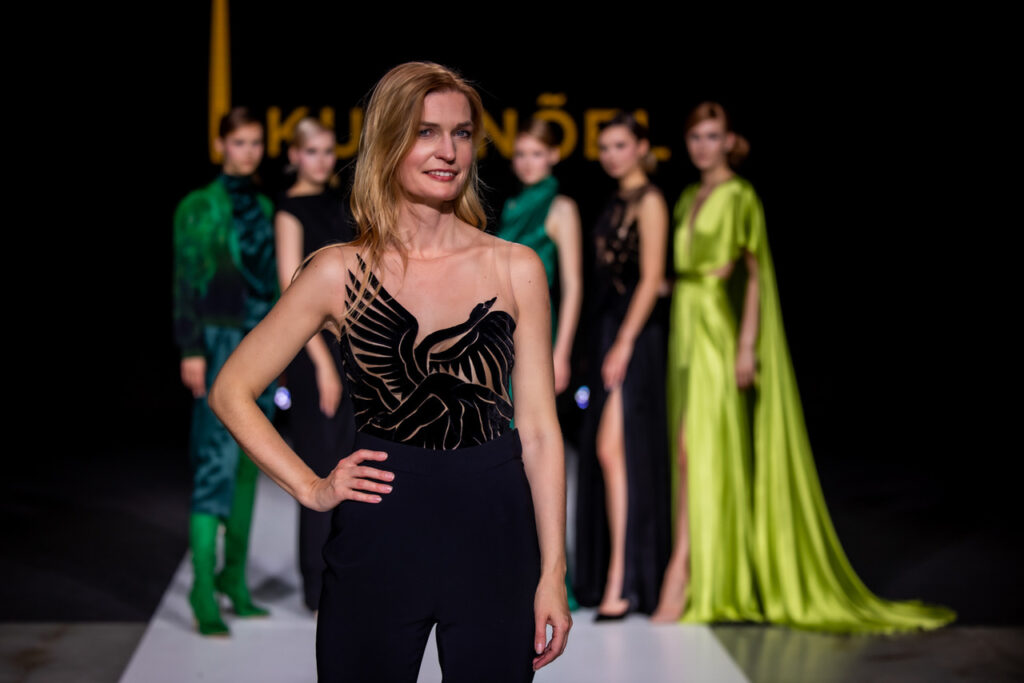 Riina Põldroos (1976) is an awarded Estonian fashion designer with a dreamy and airy style, soft yet edgy design. The brand is mostly known for evening wear, small handbags and recently the new jewelry line was launched. The jewelry is inspired by Estonian wilderness, full of fairies and werewolves. The first collection is hand carved wolf figures made of semiprecious stones.
She uses a lot of handwork and finest materials in her fashion collections also. The most recognizable dresses are made with unique handcut velvet appliqués. Each design is separately cut with scissors, pinned down and sewn to tulle. No computers and laser cut in sight. That makes every single item a wearable unique piece of art, made with dedication and pure love for creation. The designs are inspired by nature, deep forests, emptyness and the movements of birds, gracefully stretching their wings to start to fly. 
She uses a lot of silk chiffon in her collections which makes the overall feeling very light and airy with sheer layers of different color material moving, playing and dancing with each step. Mythical creatures and geometrical shiny appliqué on nude tulle are beautifully harmonizing with naked skin. Covering and revealing in perfect amounts- every woman is a goddess, every dress is a dancer.

Riina Põldroos has a vast clientelle of Estonian celebrities, pop stars and politicians. Not a party goes by without her dresses enhancing the hip crowd. She was given the award Small Needle for best young designer while in 2nd year Art Academy and the Golden Needle award for best designer as the first independent designer ever to receive it.
​